According to the American Academy of Ophthalmology, about 60 percent of all diabetics in America do not schedule annual eye exams. This is a shame since diabetics are more at risk for developing a variety of eye problems, like glaucoma. At Family Eye Clinic, with branches in North Little Rock, Little Rock, and Sherwood, AR, we understand the importance of regular diabetic eye exams.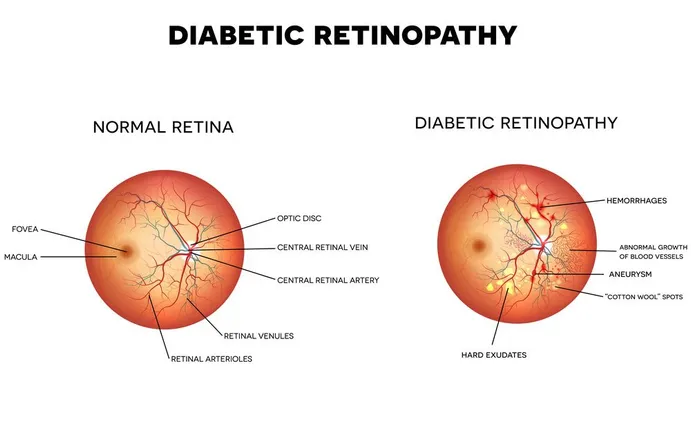 Diabetes Increases Your Risk for Glaucoma
There are many types of glaucoma, and the majority of cases of glaucoma have one thing in common: damage to the optic nerve. Damage to the optic nerve often results in blindness. Diabetics are twice as likely to develop glaucoma. By the time you develop symptoms of glaucoma, irreparable damage to the optic nerve has already occurred. Our eye doctors use comprehensive eye exams to detect the earliest signs of glaucoma. Early detection and treatment of glaucoma can preserve your vision.
Diabetes Increases Your Risk for Cataracts
Glaucoma is the second leading cause of blindness in the world; the first is cataracts. Although cataracts are basically inevitable for seniors, they can form at any time. Having diabetes makes you 60 percent more likely to develop cataracts sooner. Cataracts can only be cured by surgery.
About Diabetic Retinopathy
Diabetics are also prone to developing diabetic retinopathy. This happens in people with any type of diabetes, including gestational diabetes. High blood sugar levels can damage the small blood vessels that allow the retina to function. If left untreated, diabetic retinopathy can lead to blindness. However, if caught early enough, diabetic retinopathy can be treated.
Dilated Eye Exams
The pupils need to be dilated To examine the entire eye. Dilation often makes normal light seem incredibly bright. Be sure to bring sunglasses to your eye exam. Some people get bad headaches or blurry vision after having their pupils dilated. It is best to have someone drive you home from your dilated eye exam.
Contact Our Optometrists at Family Eye Clinic
If you are a diabetic and live in or around Little Rock, North Little Rock, Sherwood, contact our eye doctors at Family Eye Clinic to schedule an eye exam. Call our team today or reach us through our website by using our online contact form.