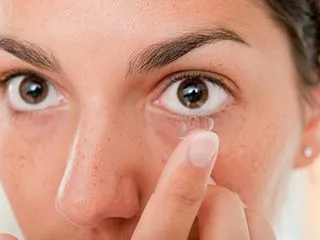 At Insightful Eye Care, it is our goal to make sure that everyone in the Little Rock, AK, area has access to optometry services that can address both acute ocular health needs as well as preventative exams. One of the areas in which we specialize is contacts. While many patients are going to feel better with regular contact lenses, some of our patients might need specialized lenses. Often called hard-to-fit contacts, we expect our patients to have questions. That is why we have put together a list of hard-to-fit contacts FAQs for the benefit of our patients.
How do you know if I need hard-to-fit contacts?
Before we give anyone contact lenses, we are going to conduct a detailed contact lens exam. During this exam, we are going to take a look at the surface of someone's eyes. We are going to take measurements to make sure that our contacts are going to fit well. We are also going to take a look at someone's tear film production to ensure their eyes are moist enough to handle regular contact. If these measurements do not line up with the parameters of regular contacts, then hard-to-fit contacts are going to be required.
What are some of the reasons why someone might require hard-to-fit contacts?
There are a few common conditions where someone might require specialized lenses. One of the most common conditions is called keratoconus. This is an eye condition in which the cornea gradually deforms. Contacts are needed to stop this process from happening. Some people who have astigmatism might also require specialized lenses.
How often do I need to replace hard-to-fit contacts?
The replacement schedule for hard-to-fit contacts often mirrors that of regular contact lenses; however, we are going to review this with every patient on a case-by-case basis. We will make sure that all of our patients know how to take care of their contacts before they leave our office.
Schedule an Eye Exam with Our Optometrist in Little Rock, AK
At Insightful Eye Care, we strive to provide comprehensive optometry services to everyone in the Little Rock area. We provide everyone with access to the latest tools and techniques in our field. This includes specialized contact lenses. We are going to conduct a detailed exam on all of our patients to make sure that we use contacts that have been tailored to meet their needs. If you are looking for help with contacts, call us today to make an appointment!